I can still remember the very first time I let the words "I'm a wedding photographer" come out of my mouth after being asked what I did. It felt like this inner battle of not feeling worthy enough to actually say the words out loud because I felt like a fraud.  This was the dream, the goal. I was working towards it every day and here I am now, walking boldly ahead with everything I am behind the statement of "I'm a professional wedding photographer" when asked about what I do.
The self employment bus is no joke, it's full of a million and three ups and downs that will beat you down to your very core. But oh my, how it was worth it for me. It was worth every bit of the emotional roller coaster that kept me on the fence of quitting and moving forward every dang day. Here I am now, five years into this whole small business thing and still trudging along!! Oh man, the stories I have to tell and the memories I've made in these last five years have given me something I couldn't have ever dreamed of. It's brought such a fullness to my life, and for that I'm thankful.
But guys. I've made it to five years. I've been shooting my little heart out since Oct. 26th, 2011. I just doesn't seem real. It still feels like a dream. A very hard dream that I put my blood, sweat, and tears into, but a dream nonetheless. I have the incredible blessing to be able to work for myself. To be my own boss. So, in celebration of FIVE WHOLE YEARS (holy wow) of being in business, here's a super long blog post to tell the world how I started and why I love doing what I do. It's a post of renewed dreams and reminiscing, of behind the scenes and funny stories. Because why the heck not!! Half a decade is worth celebrating!!
You can treat this as a "then and now", or a "look at how far I've come" post, or even a "It took me 5 years to get here" post, because I'm proud. Proud of my beginnings and honored to still have the goal of moving forward with this dream and continuing with this career for the foreseeable future. Some of these images are doozies, but heck, you gotta start somewhere. And that start for me was in portrait and family photography, which then morphed into this beautiful obsession with couples and sweet weddings.
•••
Sooo, this commences story time. I remember the day I shot my first session like it was yesterday. It was October 25th, 2011. At the time I was a 15 year old kid who had no plans or ideas for what I wanted my future to look like. I was just a kid in highschool taking pictures of random objects such as blades of grass,  my mailbox, sunsets, and anything else I saw and thought was interesting. I took pictures at random events at my church and bugged all my friends by putting a camera in their face all the time. I was just documenting life as I saw it on a small screen. I was shooting on a very old Canon Rebel XT which was my dad's camera at the time. I thought it was just the bees knees.
I was just a kid with a camera, and on that Sunday afternoon my neighbor who also attended our church at the time had a random idea and asked me if I wanted to take their family pictures!! She had this great idea to go to an adorable downtown and shoot on the railroad tracks afterwards (Which I don't recommend because it's illegal, but anyways….) So I grabbed my camera and rode with them to our fabulous location and I shot my little heart out. We had so many pinterest ideas and cute posing plans. As I was shooting the session, not knowing at all what I was doing, something sparked in me. This is what I wanted to do. I was interacting with people and creating an image, versus taking an image of something that was already created.
I fell in love with capturing people. So this was it for me.
I went home after that session and edited the entire session on Picnik (which doesn't even exist anymore! ha!) I added the coolest filters, cute sayings with fancy fonts, and even made parts of the image in color and the rest of the image in black and white. It was literally the coolest thing that I had ever done because it was for an actual session. After I edited the images, I made a Facebook page and invited all of my friends to like it. I remember laying in bed that night and having this overwhelming feeling that this was what I wanted to do with my life. Not just as a hobby, but to grow as a photographer and learn how to be a good one. I was definitely just a cute little high-schooler who started a Facebook page and took cute pictures. Never in a million years would I have ever pictured myself where I am now. Here's a few of those "humble beginning" images —
•••
Now on to my very first wedding I had a camera in my hands at was actually a random accident that wound up being the start of something so sweet in my life. At this point in my life I was 16, had been shooting for just over a year and had told everyone in my life that I "DO NOT SHOOT WEDDINGS" due to the thought of photographing a wedding scaring the ever-living daylights out of me. But at the time my dad was officiating weddings, and during premarital counseling told his couple that I was a photographer and would photographer their wedding for free!! (Thanks Dad!!) Insert me freaking out and getting mad that my dad threw me into this. However, they already had a photographer for their wedding, they just needed a photographer for getting ready and day-of bridals!! So I agreed and tagged along to this wedding!! Knowing full well at this time that showing up to a wedding with a camera was a huge no-no. But I was determined (since I was suckered into it) to go and be of any assistance to this photographer and not get in the way one bit!! I showed up and started shooting on my sweet little canon t2i with a 17-85 kit lens and went to town. I started to get in the groove of it and seeing how things worked, especially since before this I had only been to 2 other weddings in my life. To make a very long story short, the wedding was beautiful, but the photographer that was working the wedding wasn't very professional and hardly covered the wedding ceremony, and put me in a place where I had to run family formals and wedding party pictures. It was stressful, but it caused and allowed me to rise up to the occasion and take charge!! So because of me taking charge and making the day run smoothly, this sweet couple wrote me a check at the end of the evening and I got nothing but sweet compliments from the family and wedding party!! This was the moment when I realized that I just might love wedding photography. But I was still 16, so heck nooo.
After this, as much as I enjoyed it, I still told all family members + friends that I wasn't shooting weddings, so please don't send people my way. Fast forward about 5 months, I'm still shooting families and seniors and even a few babies here and there. Loving every second of it. Then comes along my sweet neighbor (the very first person to make me pick up my camera and shoot a legit session!! See that post here.) and tells me that there's a friend of hers who doesn't have a photographer and her wedding is in 2 months. So I freaked out for her, and got suckered into actually photographing this wedding!! So I rented gear, booked a second photographer, AND an assistant. I worked this 12 hour day without sitting down for a single moment, I couldn't eat anything because I was SO nervous, and would up crushing this wedding. As much as the day was crazy hectic, this was it, the beginning of the spark in me for couples. For weddings and everything that comes with them, for the joy and hectic-ness that is weddings.
Fast forward again — 3 1/2 years later I'm here. A full time wedding photographer who's shot over 291 sessions and 71 weddings since 2012, with 4 more weddings on the books to finish out 2016 with a rounded number of 75 weddings!! SEVENTY-FIVE WEDDINGS. (holy goodness wow wow wow.) Those numbers baffle me, but they excite me. They mean that I have people who have supported me, who have championed me and my dreams. They mean that I have spent many hours documenting the intimate love between two people, creating joy and capturing it. They mean traveling to places like Maui, Georgia, Oklahoma, California, Connecticut, Colorado, and all over the great state of Texas. They mean that I've gotten to walk with brides through stressful situations and be the person that calms them down, to be a messenger to my grooms and let them know that their bride looks stunning and can't wait to marry them. I've had the honor of wiping happy tears as they stream down my bride's faces, and even wipe off sweat, (because we live in Texas, duh.) pin boutonnières, create bouquets, tie ties, bustle many many dresses, fix and create up-do's for my brides and her ladies (because sometimes things happen!!) I've made many timelines, and even took over an entire wedding ceremony because the planner was nowhere to be found and we were battling a massive hail storm just 20 minutes before this outdoor ceremony. I know this is quite the list, but I've learned that being a wedding photographer is much more than just taking pretty pictures and making people feel beautiful. It's about the experience, the skills that you bring to the table, the ability to run with any bump in the road and adapt to make things run smoothly again, and last but not least, it's about being a smiling face to anyone who needs it. But truly, these are some of my favorite parts of the job. Going above and beyond my job description. I love it with every ounce of my being.
So there it is, my story and a little glimpse into who I am and what I've been doing for the last 5 years. I've compiled a long long list of wedding images from 2012 to now, and still have so much more that I would love to put into this post, but in an effort to keep this somewhat short, I decided to leave those out! ;)
•••
|| To start out, here's a few images from my very first wedding in Nov. 2012 with the biggest watermark anyone could ask for! Ha! ||
 || A few gems from my 4 weddings I shot in 2013!! My first legitimate year of shooting and booking weddings!! ||
|| Good Ole Twenty-Fourteen. The year of extreme growth. ||
|| 2015, the year of incredibly cool locations and wicked cute couples. This was also the year that I had an image go viral on pinterest!!! (You can see that here.) ||
|| And now we're back up to speed to the great year of 2016. The year I finally feel like I've 'made it' in. Full of working 60+ hour work weeks, creating goals and dreams and running after them full speed ahead. I will always be thankful for this sweet sweet year. ||
On top of all of this, having an incredible little brother who has been shooting with me for just under 2 years now. We make the most incredible team, and I'm forever blessed by what he brings to the table for me and my couples. 3 cheers for James!!! I can't imagine doing this without him by my side!  Here's a pic of us and our adorableness for your viewing pleasure. ;)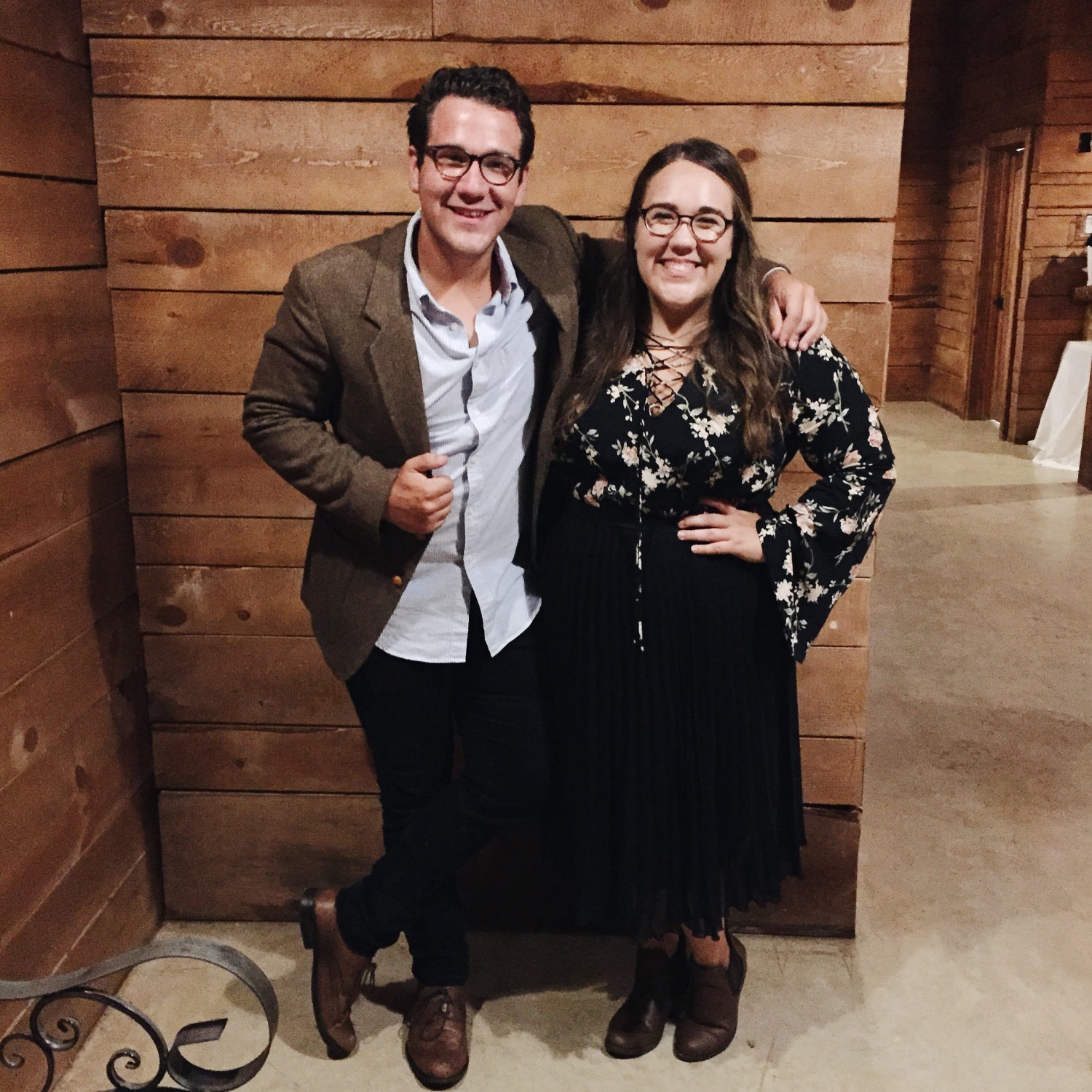 Well that's it folks, the longest blog post in the history of Rachel Meagan Photography, and the sweetest compilation of my images throughout the years. This post makes my heart happy and feeds my creative soul to get even better. To create even more incredible imagery and push the boundaries of what it means to be a wedding photographer!!
Lastly, I want to make a huge shoutout to every person and client in my life who has supported me over these five years. To thank those who have encouraged me with their words and their actions. To the people who get excited for me over new sessions, or big opportunities that have come up for me, your sweet comments are what keep me going. They encourage me in a way that I can't describe. So to all of you who have ever given me encouragement, thank-you.
Here's to a brand new year full of new adventures, world travels, exciting opportunities, and fabulous new couples and beautiful weddings!!!